Immerse into your world
Get lost in what you love. Galaxy Buds2 open a new world of sound with well-balanced audio, lightweight comfort fit, Active Noise Cancellation and seamless connectivity to your Galaxy phone and watch.1 Intuitive controls and powerful sound keep you immersed when working out, gaming or jamming to your beats.
WELL-BALANCED SOUND
Your world the way
it's meant to be heard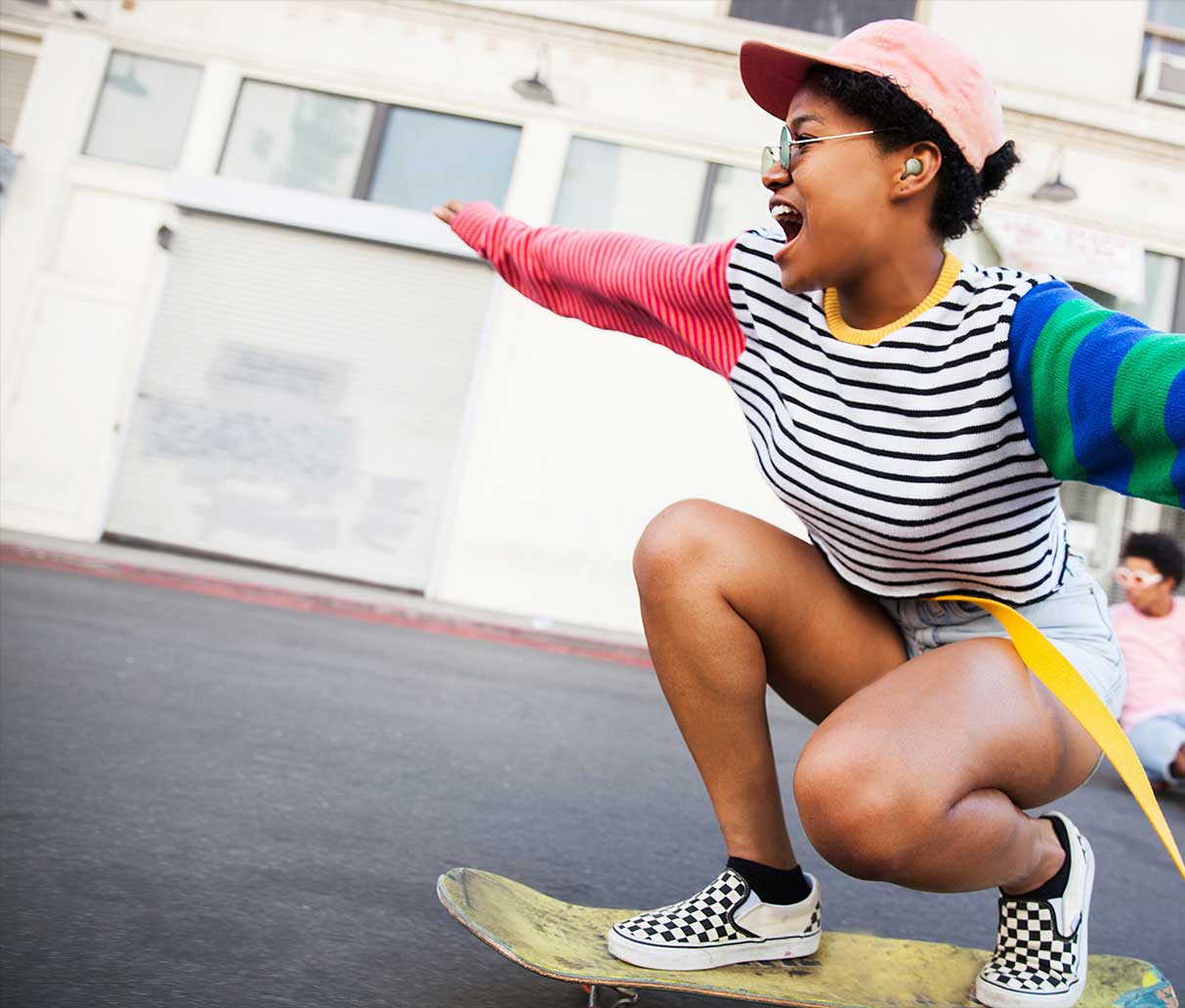 A woman is wearing olive color Galaxy Buds2 in her ear while riding a skateboard down an asphalt street. She is spreading her arms out and enjoying the ride. A man is in the background, also riding a skateboard by sitting on it.
CRYSTAL-CLEAR CALLS
Hear clearly. Speak confidently.
With three microphones, a curved design to cut down on wind noise and a machine-learning based solution to filter unwanted sound, Galaxy Buds2 are designed to deliver every word crisply and clearly, whether you're chatting with a friend or leading a high-stakes conference call.
An olive color Galaxy Buds2 earbud is split in half and its inner components are shown in order. The outermost shell is opened and inside is a chipset with 1 inner mic. There is also a component with 2 outer mics(Beamforming) and VPU(voice pickup unit)
ACTIVE NOISE CANCELLATION
Choose the sound
you want to hear
Two microphones pick up the sounds you want to hear while Active Noise Cancellation2 blocks unwanted ones. The Galaxy Wearable app lets you choose between three levels of ambient noise so you can take control of the sound in your environment. Listen to playlists without missing an announcement at the airport. Or, reduce background noise to stay fully immersed in your favorite music, games, audiobooks and podcasts.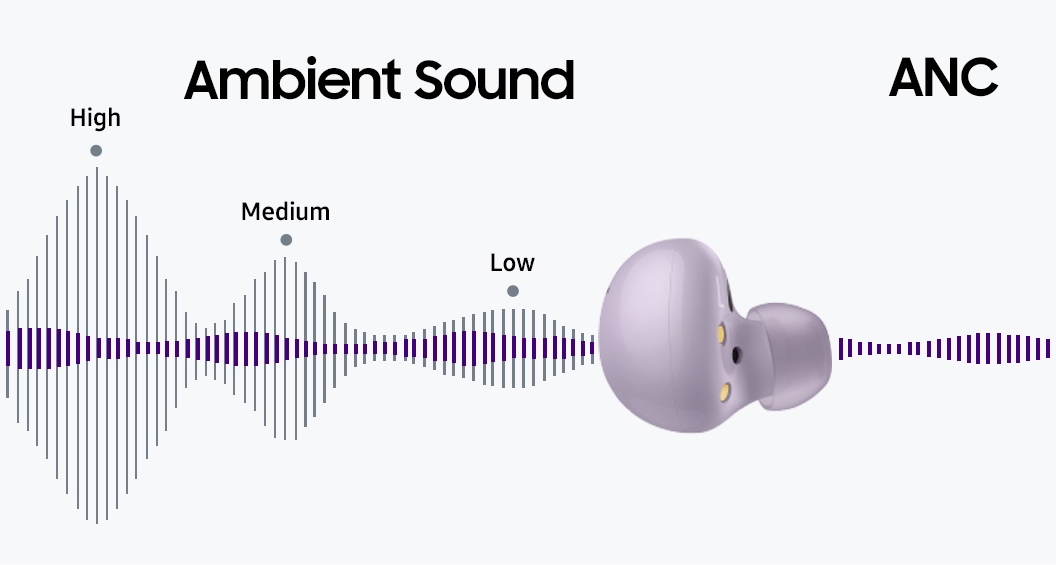 A lavender Galaxy Buds2 earbud is shown over an illustration that depicts the three levels of ambient sounds that can be adjusted for ANC, from low, medium, to high.
360 AUDIO
Get 360 Audio and be completely immersed
360 Audio places sound all around you, while Dolby Head Tracking™ technology delivers an incredible three-dimensional listening experience. And with Dolby Atmos®, the audio becomes exceptionally detailed, letting you do more than just listen – you'll feel the story happening in front of you.5

SOUND CUSTOMIZATION
Sounds tailored to
your taste
Your every audio experience is tailored to your taste with Galaxy Buds2. With six different equalizer settings to choose from, you'll find your own pitch perfect, vibrant sound that keeps you immersed.
How to change equalizer setting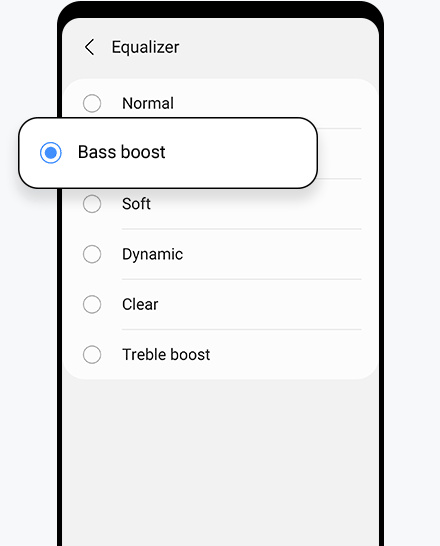 Looks as
good as
it sounds
COMFORT FIT
The lightest earbuds
we've ever made
Galaxy Buds2 feature our most comfortable and lightweight fit yet. You may get to the end of your playlist before you remember you're wearing them at all, even during the most rigorous activities. With three sizes of soft, flexible silicone tips, you can find the perfect fit to get the best ANC2 experience possible. Simply find your size with the "Earbud fit test" menu in the Galaxy Wearable app.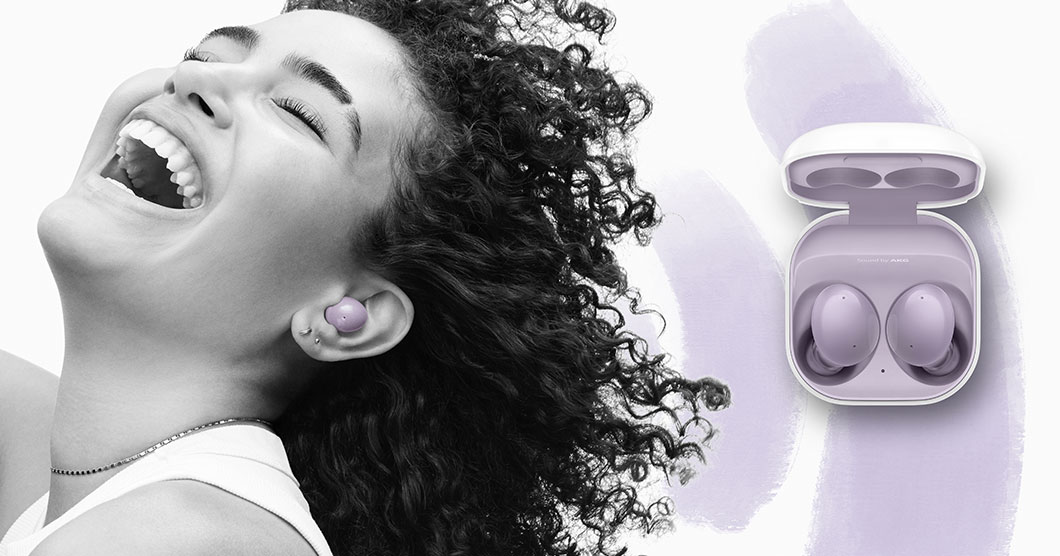 A woman is enjoying music while wearing a lavender color Galaxy Buds2. A Galaxy Buds2 case is displayed next to her, which is lavender color on the inside and white on the outside.
FOUR COLOR OPTIONS
Find your
perfect tone
Classic graphite. Flawless white. Bold olive. Stylish lavender. Each earbud comes in a fashion-forward design and matching case to fit your unique taste.3 With a widely compatible cradle design, the case keeps your earbuds safe, recharged and ready-to-go.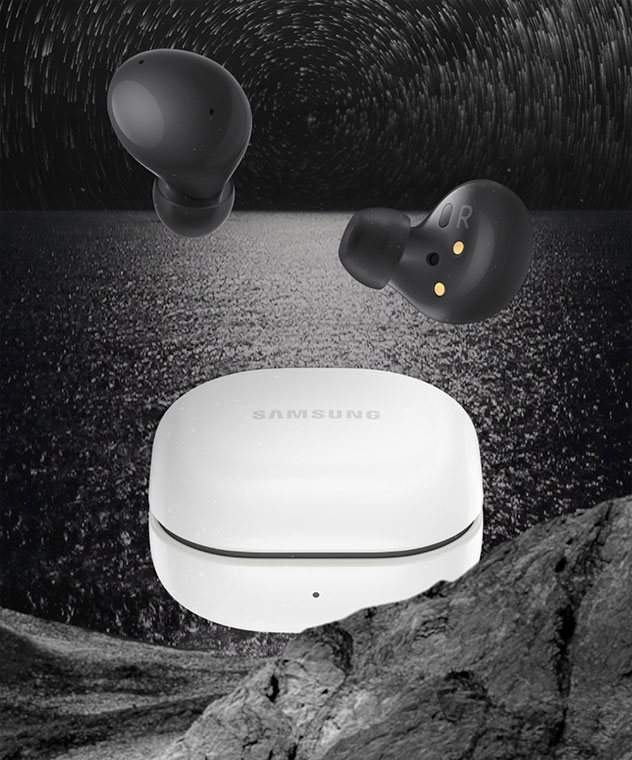 A white Buds2 case is placed in front of a dark ocean overlooking a cliff. Two graphite Buds2 earbuds are shown with the Galaxy Buds2 case. A Buds2 case is open with two earbuds inside. There are two earbuds displayed outside of its case.
BATTERY LIFE
Plenty of play time,
wherever you go
Whether you're watching your favorite shows, blazing through playlists or enjoying the great outdoors, Galaxy Buds2 keep you connected and comfortable for hours without stopping to charge. Indulge your love of music with a long-lasting battery that's up to the job—so your music doesn't stop until you do.4
A Galaxy Buds2 case is open and tilted to the right in an angle. The interior of the case is black, and there is one earbud in the case. The other earbud is outside of the case, placed with the eartip pointing up.